The U.S. economic forecast points to improvement in Q3 and Q4. The value of real GDP slowed in Q4 2020. A slower rate of growth will continue in Q1 2021. Economic growth will resume in Q2. The value of real GDP will return to its pre-pandemic level in the second half of 2021.
A similar pattern will occur in the labor market. Job losses are likely to occur in Q1. By mid-year, job growth will return. Total employment will return to its 2019 level in 2022 or 2023. The uptick in unemployment claims will cause the unemployment rate to remain higher than usual. As more people are vaccinated, the economy will open further, and more people will return to work.
The hospitality industry has been hit hard by the lockdowns and restrictions. Employment in those areas is not expected to return until 2023. On a similar note, the airline industry was off by as much as 95%, compared to the prior year. Domestic air travel is not expected to return to pre-pandemic levels until 2023. International air travel will return in 2024.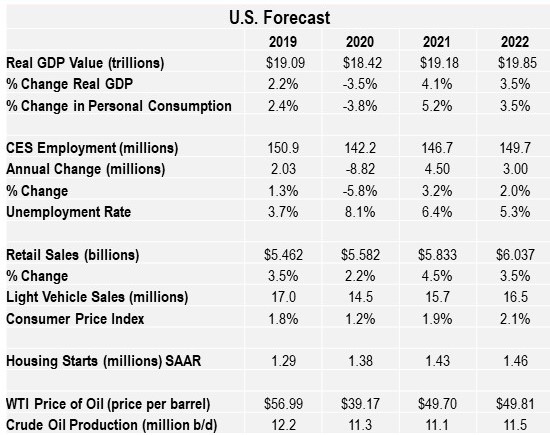 Personal consumption will become positive in 2021. Pent-up demand and stimulus support will drive retail sales higher in 2021. Both will return to pre-pandemic levels in 2022.
Light vehicle sales will gradually improve and return to 17 million units in 2023. At the moment, the automobile industry is plagued with a shortage of semiconductors. This will negatively impact sales.
Inflation will remain near the Federal Reserve's target of 2.0%. Having said that, some economists fear the stimulus package will cause inflation problems in 2021.
The number of housing starts will increase in 2021 as interest rates remain low.
Crude oil production and prices will remain flat in 2021.They will post slight increases in 2022.
While the overall U.S. economic forecast is positive, there is still significant headwinds.